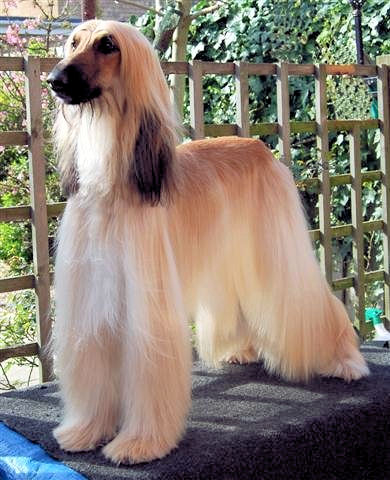 12 August 2004 - 02 December 2015
Sire: Ch Wilbus Libretto
Dam: Mashaalah Sulani
UK KC Stud Book Number: 0928CQ
____________________________________________
Introducing Mashaalah Faridah at Numa JW, also known as Lily.
Never has an Afghan Hound puppy caused so much mayhem in our house!
Lily was always very bossy "in the nest", and still is! She was quite a plump puppy, known then as "Big Bertha"!. My, how she has changed in appearance, but she is still bossy! She joined us at Numa on 16 October 2004 and has bossed her half-brother Bart (Ratheeli Nadir) about ever since. She seems to have been quite influenced by our beloved Page (Rusmar Arpage for Bowentree) for the 11 months that Page was together with Lily, and it is lovely to see some of Page's traits coming out in Lily. She will not be ignored, and she is very vocal when she wants something, that is Page to a P. Lily is a terrible fidget, and cannot keep still for a minute. She loves to play, and if she cannot find a toy, she will invent one. Many a dog bed finds itself far from where it should be - luckily, she is not destructive.
Lily made her show ring debut at Worthing Open Show under Brian Hayes, gaining second place in Puppy Bitch. Two weeks later at the East Of England Afghan Club Championship Show under Val McCormack she won 3 classes, to start her Junior Warrant point total off at 9 points! She gained her Junior Warrant at the Midland Afghan Hound Club's Championship Show 2005 under Wendy Bastow, winning the Novice class. She was just 9 months old.
Her show career continued to be successful, although she did have her moments. Poor David got up at the crack of dawn in September 2005 and drove 200 miles (317Km) to the Yorkshire Afghan Hound Society's Championship Show under Dot Hunter. All went well until Lily encountered wet grass. Oh, Boy! She was extremely lively before Junior Bitch started, but on entering the ring she went crazy! She bolted round in circles (because she was on a lead). Then she turned and went round the other way, nearly knocking the steward and judge clean off their feet! She paused for a moment, then spotted her sister entering the ring, and went off again! David eventually managed to coax her to one side of the ring, where she continued to leap around at a great rate. Eventually she calmed down, until it was time to be judged, by which time she looked as if she had been wading through the Florida Everglades. She then varied her enthusiasm, but alternating between being a kangaroo and a whirling dervish. Needless to say, she was unplaced on the day - but scored highly on entertainment value. She can still be over enthusiastic at times in the show ring, but is gradually calming down. The trick is to let her go "off on one" before she enters the show ring.
During the same week that our Cyd, Gilari Hollywood Cerise, arrived at Numa our dear Lily was taken poorly and visited our Vet for the last time. She was 11½ years old and leaves a great void in our lives.
-------------------------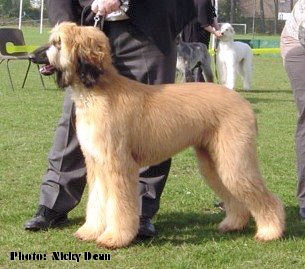 1st MPB, PB and MB EEAC 2005 Championship Show
BPB & BOSPIS EEAC 2005 Championship Show
Best Puppy & RBOB Swindon DCS 2005 Open Show
1st Minor Puppy Bitch NAHS 2005 Championship Show
1st Minor Puppy Bitch AHA Open Show 2005
1st Minor Puppy Bitch Hound Association of Scotland 2005
| | | |
| --- | --- | --- |
| HAS 2005 Photo by Cubanba | August 2005 | April 2006 Photo by Lesley Busby |
1st MPB Western Afghan Hound Club Open Show 2005
1st Puppy Bitch WELKS 2005
1st MPB Birmingham National 2005
1st Novice Bitch BAHC Open Show 2005
1st Novice Bitch, MAHC Championship Show 2005 (Junior Warrant gained)
1st Puppy Bitch Bath Championship Show 2005
1st Puppy Bitch Three Counties Championship Show 2005
1st Puppy Bitch Blackpool Championship Show 2005
1st Yearling Bitch WAHC Championship Show 2005
1st Junior Bitch SAC Double Open Show 2005
1st Yearling Bitch BAHC Open Show 2006
1st Yearling Afghan Hound and Best Of Breed Swindon DCS Open Show 2006
1st Graduate Bitch, WAHC Open Show 2006
1st Graduate Bitch, SAC Open Show 2006
1st Graduate Bitch, Birmingham National Championship Show 2006
1st Yearling Bitch, Windsor Championship Show 2006
1st Yearling Bitch, SAC Open Show, July 2006
1st Graduate Bitch, WAHC Championship Show 2006
1st Open Bitch, Swindon DCS Open Show 2007